Pipe Lifting Clamp ZHHC-RS Type
Elevate efficiency with Grandlifting's red and yellow ZHHC-RS type pipe lifting clamp, designed from metal and fine-tuned to the INCH system.
Description
Crafted from the sturdiest metals, this ZHHC-RS type pipe lifting clamp embodies strength and dependability. Adding to its finesse is its alignment with the INCH measurement system, echoing American benchmarks and assuring an exceptional fit.
Take a peek at our offerings: For the ZHHC-RS-0.4T, expect a working load of 400kg, a tested threshold of 800kg, and an accommodating opening size from φ80-φ100mm.
The ZHHC-RS-0.5T boasts a working capacity of 500kg and comfortably fits pipes from φ100-φ120mm. As for the ZHHC-RS-0.75T impressively shoulders up to 750kg and is crafted for pipes between φ120-φ140mm.
Further, the ZHHC-RS-1T, a true heavyweight, manages an impressive 1000kg and is perfect for pipes between φ140-φ160mm.
In summary, contact us today and order our products.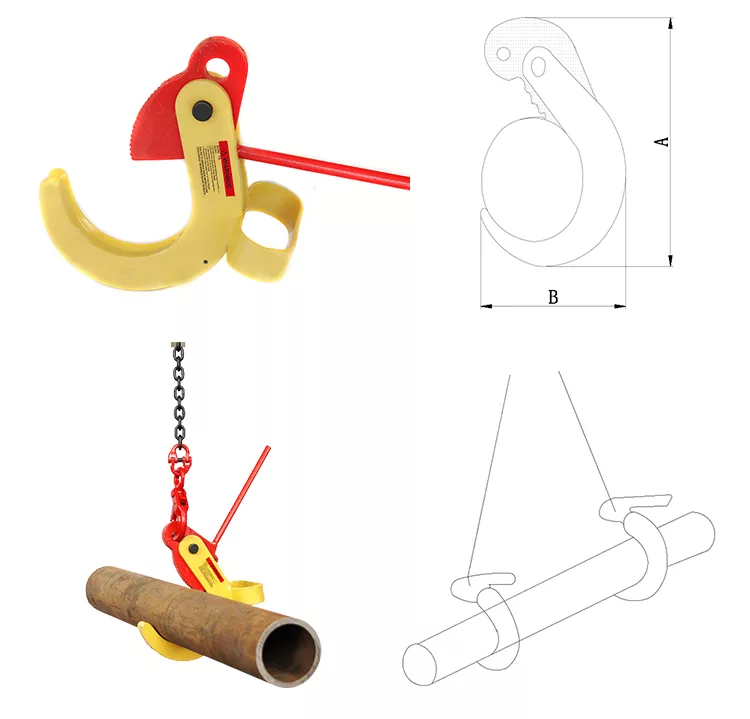 Item No.

Working load (kg)

Testing load (kg)

Opening size (mm)

Size (mm)

A

B

ZHHC-RS-0.4T

400

800

φ80-φ100

230

145

ZHHC-RS-0.5T

500

1000

φ100-φ120

270

208

ZHHC-RS-0.75T

750

1500

φ120-φ140

292

237

ZHHC-RS-1T

1000

2000

φ140-φ160

328

258
Contact Us
"*" indicates required fields