Ratchet Load Binder with Grab Hook and Pins, EN2195-3 Standard
Step up cargo management with Grandlifting's ratchet load binder in brilliant red metal, compliant with the EN2195-3 standard.
Description
Our premium-grade ratchet load binder, finished in a vibrant shade of red, is not only a visual standout but also a testament to durability, thanks to its robust metal composition.
Complete with grab hooks and pins, It ensures utmost safety and reliability during transport or storage.
Further, for businesses prioritizing unique packaging needs, its customizable packing options cater to all preferences.
Consequently, contact us today; choose excellence and efficiency with this top-tier ratchet load binder.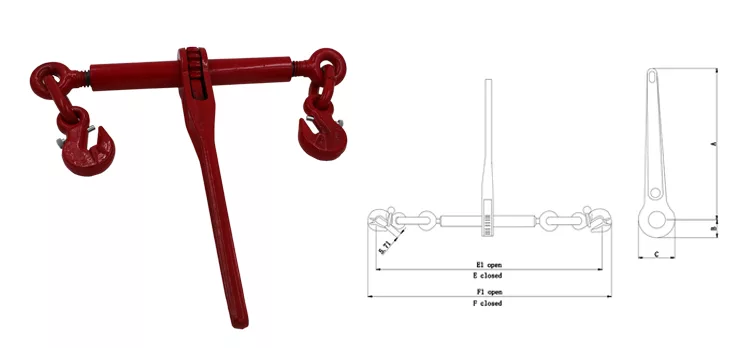 Item No.

Min-Max Chain Size

Working Load Limit

Proof Load

Min. Ultimate Strength

Weight/

Each

Handle Length

Dimensions mm

mm

kg

kg

kg

kg

mm

A

B

C

E

E1

F

F1

G

LBR-01

6

1000

2000

3500

1.60

170

170

22.6

45.2

415

560

460

545

9.3

LBR-02

8

4000

5000

8600

4.80

355.5

355.5

33

66

590

750

650

810

12.8

LBR-03

10

6300

8000

15180

5.50

355.5

35

5.5

33

66

600

760

680

840

16.5

LBR-04

13

10000

12500

20800

8.00

355.5

35

5.5

33

66

667

825

761

919

19

LBR-05

16

16000

18000

20000

10.50

355.5

35

5.5

33

66

735

895

783

941

20
Contact Us
"*" indicates required fields